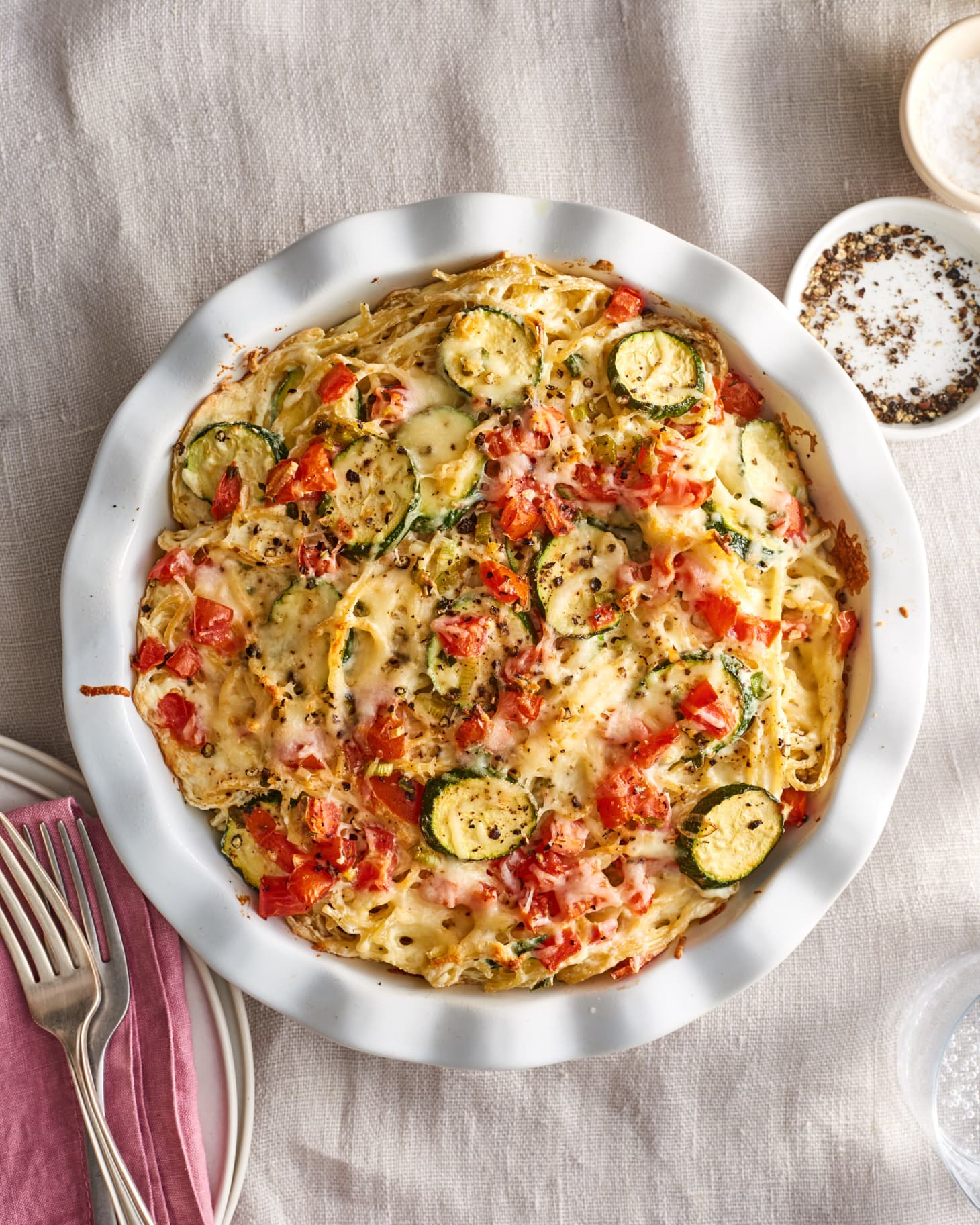 There's comfort in knowing that as long as there's a box of pasta in the pantry, dinner is never far away. This summer, break away from the usual noodles and sauce and serve thick wedges of spaghetti pie instead, in which strands of spaghetti are bound with creamy ricotta and Italian cheeses and baked with tomatoes, tender zucchini, and plenty of fresh herbs.
This isn't your average spaghetti pie. Classic variations are often a humble assembly of noodles, marinara, and a few eggs to hold it all together. This reimagined version boasts ricotta cheese and summer veggies for a fresher and more vibrant meal. For the very best pie, opt for whole-milk ricotta rather than skim (which has a bouncy, rubbery texture), and go heavy on the herbs; parsley and basil are natural complements to the tomato and zucchini, but fresh thyme or chives would be equally as nice.
The Perfect Make-Ahead Summer Meal
Why make just one spaghetti pie when you can prep two and have a meal ready to go in the freezer? Freeze half of the creamy pasta and vegetables in a pie pan lined with heavy-duty aluminum foil, folding the foil over the top of the pie. Once it's solid, remove the pie from the plate and return the pie to the freezer. When you're ready to bake, peel the foil off the frozen pie. The frozen "puck" of spaghetti pie will fit perfectly back into the pie plate used for freezing.
Alternatively, you can freeze directly in a disposable pie pan — just make sure to cover the top of the pasta to prevent freezer burn.
Spaghetti Pie
Ingredients
1

pound

dry spaghetti, broken in half

2

large eggs

3

cups

whole-milk ricotta cheese

1 1/2

cups

shredded Italian-blend cheese, divided

1/4

teaspoon

freshly ground black pepper

2

teaspoons

kosher salt, divided plus more for the cooking pasta

1

tablespoon

olive oil, plus extra for greasing the pan

1

cup

chopped scallions (from 4 scallions)

3

cloves

garlic, minced

1

small zucchini or yellow squash, quartered lengthwise then sliced crosswise

1

large tomato, seeded and diced

1/4

cup

chopped fresh Italian parsley leaves

2

tablespoons

chopped fresh basil leaves
Instructions
Arrange a rack in the center of the oven and heat to 350°F. Brush 1 (9-inch) pie pan with olive oil and set aside. Repeat with a second pie pan or, if you plan on freezing the second, line it with 2 pieces of aluminum foil instead, arranging them perpendicular to one another to completely cover it with an overhang of 3 to 4 inches.

Bring 2 quarts of salted water to a boil in a large pot over medium-high heat. Add the pasta and cook 1 minute less than al dente, 8 to 10 minutes or according to package directions. Drain the pasta.

Whisk the eggs, ricotta, 1 cup of the Italian-blend cheese, pepper, and 1 of the teaspoon salt together in a large bowl until combined; set aside.

Heat the oil in a large skillet over medium-high heat until shimmering. Add the scallions and remaining 1 teaspoon salt, and cook until bright green and beginning to brown, 3 to 4 minutes. Add the garlic and cook until fragrant, 30 seconds to 1 minute. Stir in the zucchini and tomato and cook until tender and most of the liquid has evaporated, 10 to 12 minutes. Stir in the parsley and basil.

Scrape the vegetables into the cheese mixture, add the spaghetti, and toss to combine. Divide between the prepared pie pans. Sprinkle with the remaining 1/2 cup Italian-blend cheese.

If freezing the second pie, fold the overhanging foil over the top of the pie to completley cover. Label and freeze until solid.

Bake the remaining pie until the heated through and golden brown, 25 to 30 minutes. Let cool on a wire rack for 5 minutes before slicing and serving.
Recipe Notes
Storage: Refrigerate leftovers in an airtight container for up to 3 days. Freeze the unbaked spaghetti pie for up to 3 months. Thaw in the refrigerator overnight and uncover before baking.
To make 1 pie: The recipe can be halved to make a single spaghetti pie.
Source: Read Full Article