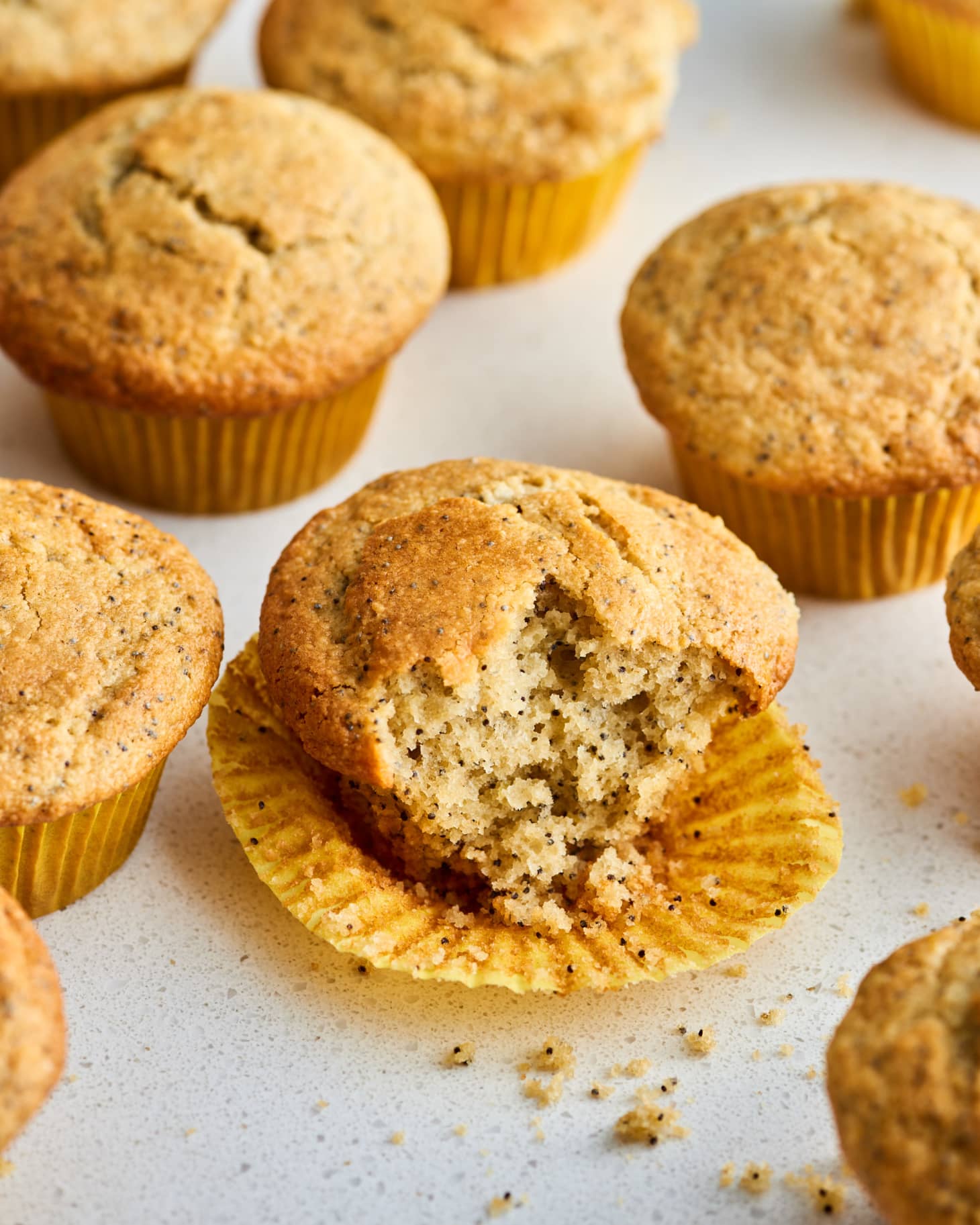 I am going to come right out and make the bold statement that these gluten-free lemon poppy seed muffins are better than their gluten-full companions. If you don't believe me, believe my gluten-loving husband, who sent me drooling face emojis the entire week he brought one to work for breakfast. He couldn't believe they didn't contain any gluten, and I think you'll feel the same.
These muffins are ridiculously light and tender (thanks to a combination of almond and oat flour) and full of bright lemon flavor, and bake up with a bakery-worthy domed top that makes them seriously eye-catching. In fact, even though I don't follow a strict gluten-free diet, I plan to make these the only lemon poppy seed muffins I bake from now on.
The Surprising Trick That Led to the Ultimate Gluten-Free Muffins
Out of the many classic flavors of muffins and quick breads, lemon poppy seed is my all-time favorite. If I see it in any form at a bakery or cafe, I feel almost obliged to order it.So when developing a gluten-free version, I set high standards. I wanted them to taste just as good, be moist and tender, and have serious height.
I nailed the flavor pretty early on, but without the gluten structure from all-purpose flour, the muffins sunk in many of my early trials. Finally, I uncovered a trick from Shauna James Ahern, the blogger behind Gluten Free Girl. She suggests separating the egg yolk and whites to achieve soufflé-like lift in gluten-free baked goods. While she didn't whip the whites, I opted to do so in order to make these muffins as fluffy and lofty as possible. It's an extra step that's well worth the effort.
Gluten-Free Lemon Poppy Seed Muffins
Ingredients
Cooking spray or paper muffin liners

2 1/4

cups

gluten-free oat flour (see note below on how to make your own)

1 1/2

cups

almond flour

2/3

cup

granulated sugar

2

tablespoons

poppy seeds

1

tablespoon

baking powder

3/4

teaspoon

baking soda

1/2

teaspoon

kosher salt

1

cup

plain whole-milk or 2% Greek yogurt

1/3

cup

vegetable or canola oil

3

large eggs yolks

Finely grated zest of 1 medium lemon (about 1 tablespoon)

Juice of 1 medium lemon (about 3 tablespoons)

1

teaspoon

vanilla extract

3

large egg whites
Instructions
Arrange a rack in the middle of the oven and heat to 375°F. Line a standard 12-well muffin pan with paper liners or coat the wells with cooking spray.

Whisk the oat flour, almond flour, sugar, poppy seeds, baking powder, baking soda, and salt together in a large bowl, breaking up any large clumps of almond flour; set aside.

Whisk the yogurt, oil, egg yolks, lemon zest, lemon juice, and vanilla together in a medium bowl until combined; set aside.

Place the egg whites in the bowl of a stand mixer fitted with the whisk attachment. (Alternatively, use an electric hand mixer, small food processor, or sturdy whisk). Beat on medium-high speed until stiff peaks form, 2 to 3 minutes.

Pour the yogurt mixture into the almond flour mixture and stir with a rubber spatula until just combined. Some lumps are fine. Stir 1/3 of the beaten egg whites into the batter with the spatula. Then gently fold the remaining egg whites in until just combined (do not overmix).

Divide the batter among the prepared muffin wells, filling each to the top (about 1/3 cup each). Bake until the muffins are golden brown and a toothpick inserted into the center of a muffin comes out clean, about 20 minutes. Cool the muffins in the pan for 10 minutes. Remove from the pan to a wire rack and cool 10 minutes more before serving.
Recipe Notes
Storage: Muffins will keep in an airtight container at room temperature for up to 5 days. They can also be frozen and then thawed at room temperature.
Oat flour: You can make your own oat flour by blending an equal amount of gluten-free old-fashioned rolled oats in a food processor until well-ground and flour-like, about 1 minute.
Source: Read Full Article