Total:

1 hr 30 min

Active:

20 min
Ingredients
Directions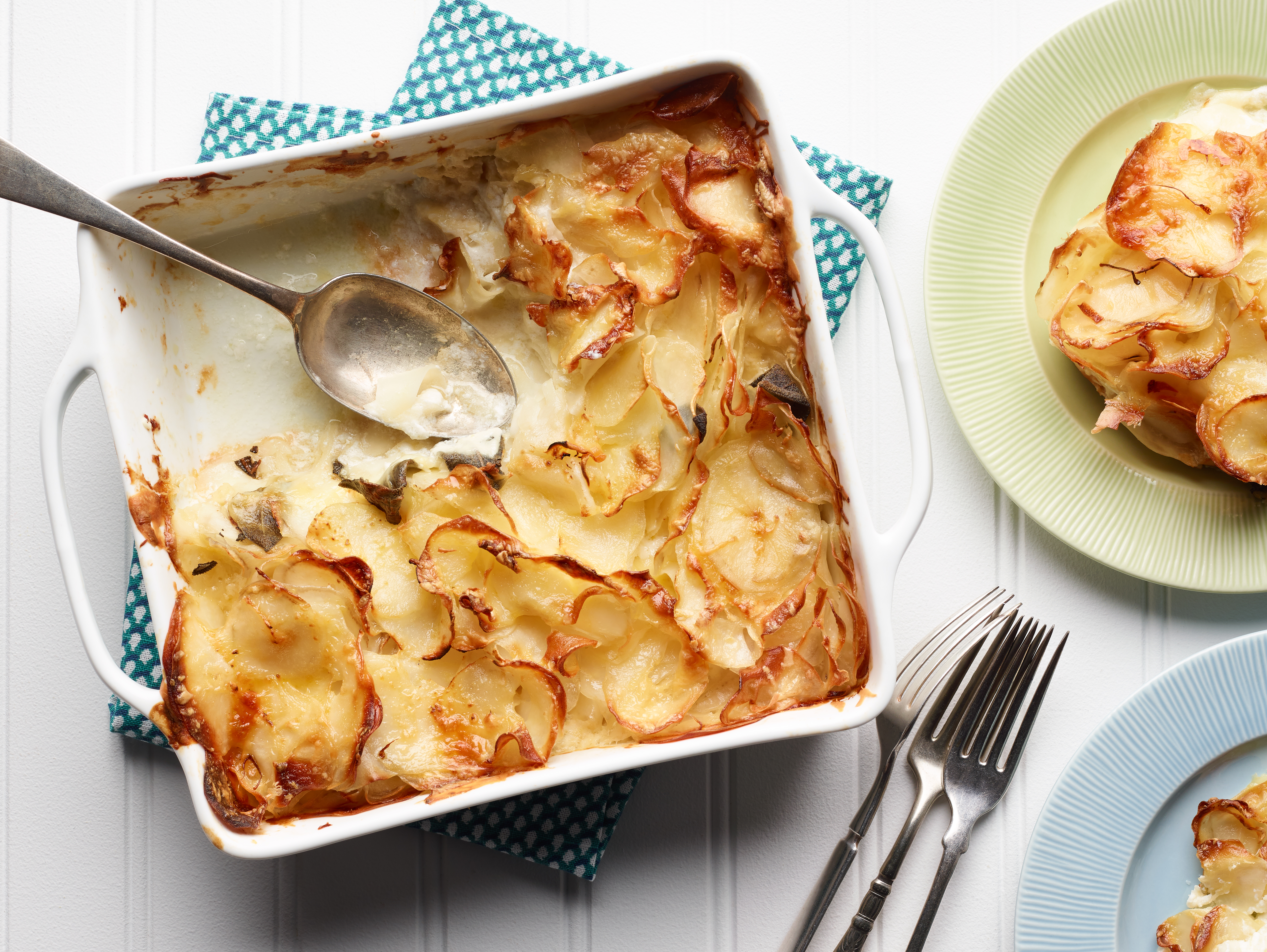 Preheat the oven to 350 degrees F. Grease an 8-by-8-inch square baking dish with butter.
Melt the butter in a medium saucepan over medium heat. Sprinkle in the flour and stir with a wooden spoon to make a paste. Cook until the flour mixture begins to toast, about 1 minute. Add 4 of the sage leaves and let them sizzle for a minute, then whisk in the half-and-half, nutmeg, 2 teaspoons salt and several grinds of pepper. Bring to a simmer over low heat and cook until slightly thickened, 4 to 5 minutes. Remove and discard the sage leaves, then pour 1/2 cup sauce in the bottom of the prepared baking dish and spread to coat. Sprinkle with 1/2 cup each of the Cheddar and Monterey jack.  
Trim the ends from the potatoes so they will fit on a spiral slicing machine. Use the plain blade to slice a potato into a long ribbon. Pick up one end of the potato and let it spiral back onto itself in a neat pile. Tuck the spiralized potato into a corner of the baking dish, with the neat ruffly edge sticking up. Place a second potato next to the first potato, separating them with 2 of the sage leaves. Place 2 potatoes side by side in the middle of the baking dish, separating them with 2 of the sage leaves. Then place the remaining 2 potatoes and 2 sage leaves in the other corners of the baking dish, so you end up with 3 rows of 2 potatoes each. Pour the sauce over the potatoes and sprinkle with the remaining 3/4 cup each Cheddar and Monterey jack. Cover the dish with foil, tenting it so it doesn't touch the cheese. 
Bake for 1 hour. Remove the foil and continue to bake until browned and bubbly and the edges of the potatoes are crispy, 20 to 25 minutes more. Let rest for 5 minutes before serving.  
Source: Read Full Article