Here comes a hot take: Any dish or food with the word "butter" in it immediately makes me sit up and say, okay sure I'll eat that. A restaurant that serves any combo of WORD + BUTTER immediately seems gourmet and luxurious to me; if I see that the bread basket is accompanied by honey butter or garlic butter or chive butter, I'm going there. It's the same thing with nut butters, which are the perfect protein-packed snack that's still so satisfying to taste (due to all the fat, I know).
All of this is why, when I heard that 88 Acres was selling watermelon seed butter, I was the first in line to try. Watermelon seeds? I've only ever tasted one by accident, during the summer, when one's first priority is getting to a watermelon's refreshing pink flesh and not like, stopping to see if you're about to swallow a bit of black bitterness. Would it taste kind of fruity? Would it be a black paste?
The seed-crazy snack company sent me a large tub (of 14 ounces) of the stuff to try, and I was struck by the consistency and color: It's a smooth shade of taupe, not gritty at all, and there had been no oil separation in transit like I had expected. It looked and tasted pretty much like tahini, but without the sesame complexity—less nutty and a bit less delicious, TBH. My first taste of the butter was scooped on a spoon and alone it was bitter and earthy, with a vague hint of fruit in the background. I suspect that fruit flavor is helped along by one of the more surprising ingredients—powdered sugar—though an unsweetened version is also sold.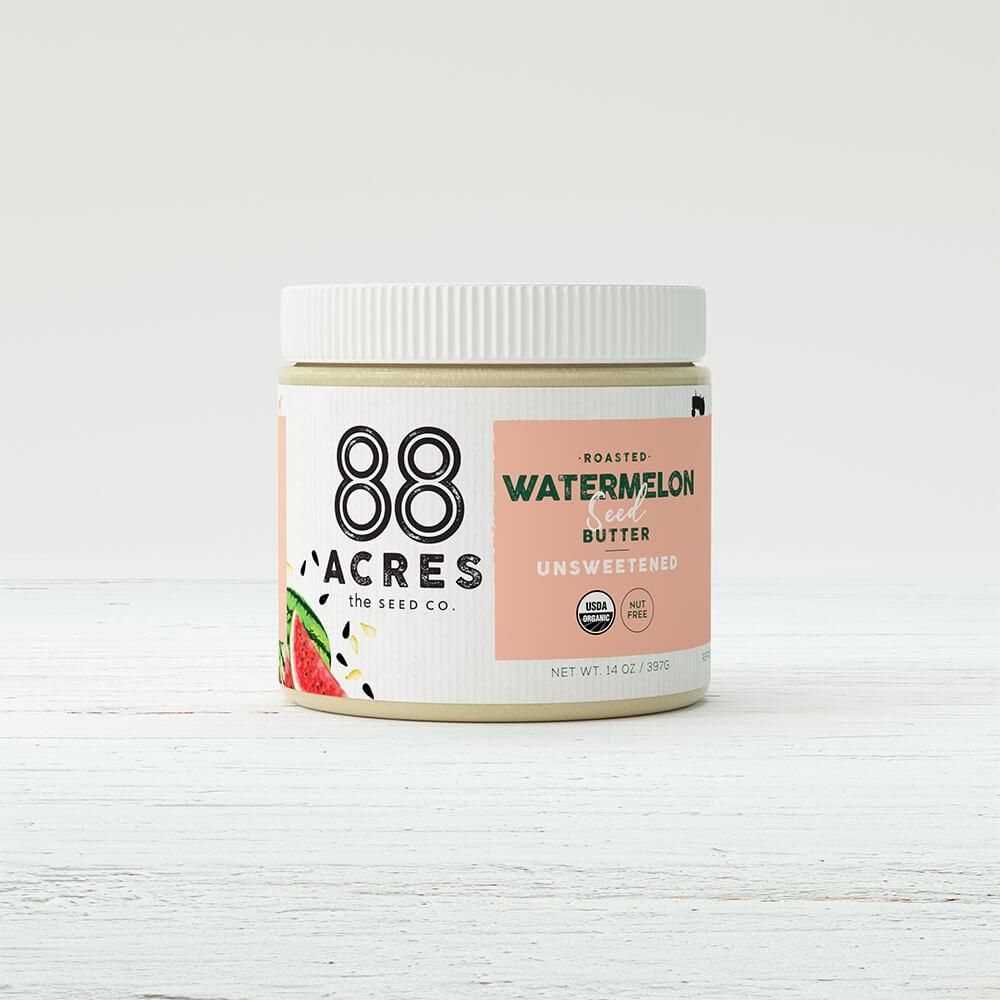 Watermelon Seed Butter Unsweetened (14 oz Jar)
Then I tried it the way I like all my butters: on toast. It was a bit danker and sadder on toast, though better when I drizzled on either honey or crunchy, flaky salt. Next I smeared it on some apples for an afternoon snack. It didn't add much to the taste of the apples the way, say, peanut butter would have, but it was a decent way to add protein and thus keep me sated until dinner. It made for nice dip, too, since the consistency wasn't too thick.
Finally, I felt I was being too hard on watermelon seed butter. I mean, I don't routinely eat tahini on its own either, right? It's more of a base. So I decided to use it the same way I would the sesame stuff, only in a recipe a bit simpler than grinding up my own hummus: as a sauce atop a roasted sweet potato. I thinned the seed butter with olive oil, chopped raw garlic, normal yellow butter, salt, sesame seeds, and a half lime's worth of juice, then whisked it together and drizzled over a hot sweet tater.
That was pretty delicious, I have to say, but what wouldn't be when mixed with garlic, salt, citrus, and normal butter?
Ultimately, I don't think watermelon seed butter is for me, but it would definitely be a great sub for tahini if you're low, or happen to have a sesame allergy. 88 Acres also sent along a collection of their other seed butters and their seed and oat bars, the latter of which I adored. The bars were packed with pumpkin seeds and super delectable due to their fruit content or maple syrup use. I ate one every day for breakfast with coffee and it was a total treat.
Until next summer, watermelon! I'll totally miss you.
Source: Read Full Article