While meat doesn't always make it into our budget meals, turkey day just doesn't seem right without its eponymous item: I could not skip out on turkey altogether. After a brisk half-hour stroll around my neighborhood, I chanced upon some ginormous turkey drumsticks that rang in at $1.19/lb; for just $4.53, these two drumsticks ended up being the stars of two delicious meat mains.
There were a few other ingredients that seemed essential to maintain that Thanksgiving vibe: cranberries (for sauce), potatoes (for mash), rosemary (for flavor), celery and onion (for stuffing), pumpkin (for pie), and butter (for all that is good in life). With my remaining funds I scored a few additional deals, including a bag of dried red chilis (for Aaron!), Brussels (for health!), butternut squash (it was only $1!), mushrooms (for gravy), and a pint of half & half (for creaminess).
The process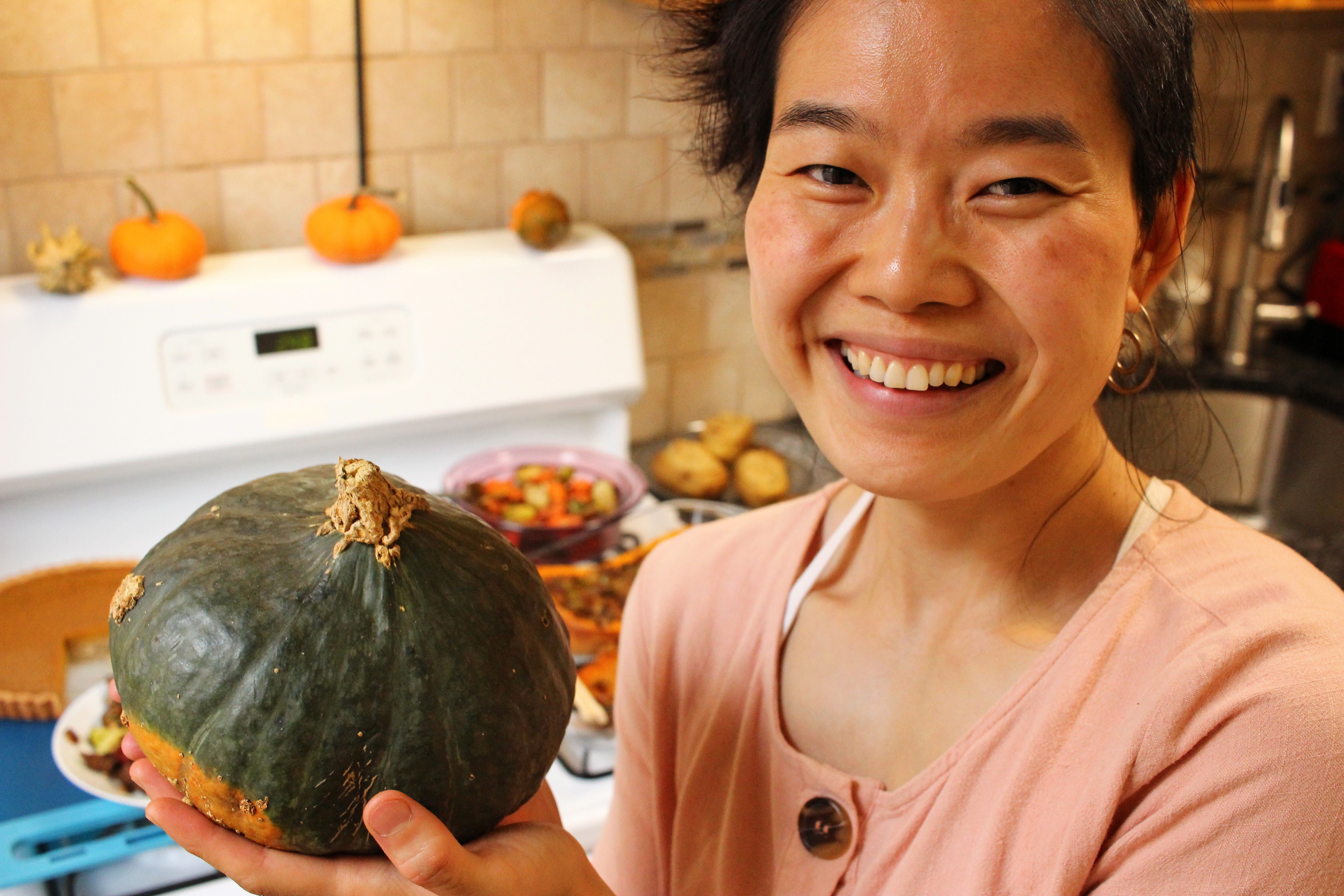 Cooking everything took two long days—and of course, eating it took just 20 minutes. On day 1, I roasted veggies, made a stock with turkey bones and vegetable scraps, baked some potatoes, steamed the kabocha squash, and made my cranberry sauce. As the sunlight disappeared into the evening and the walls of my apartment began to sweat more than I did, I decided I would not be making a traditional pumpkin pie after all.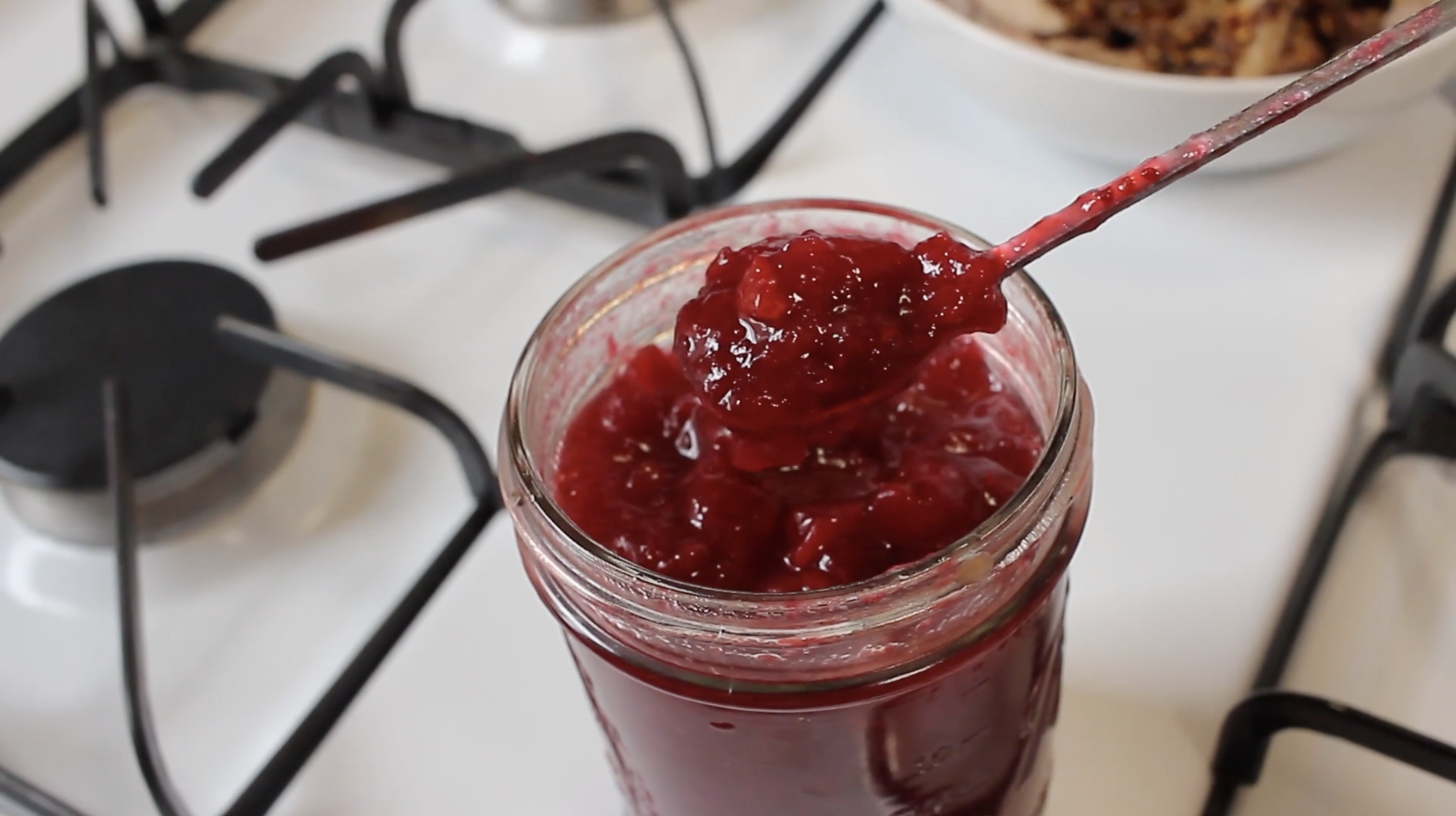 I rose earlier on day two and got up while it was still dark to really kick things into high gear. I made the dough from Lauren's ridiculously beautiful apple tart recipe, and paired it with a kabocha squash filling, crossed my fingers and wished for the best. And what do you know, it was the first time I can recall anything in 2020 turning out so smoothly!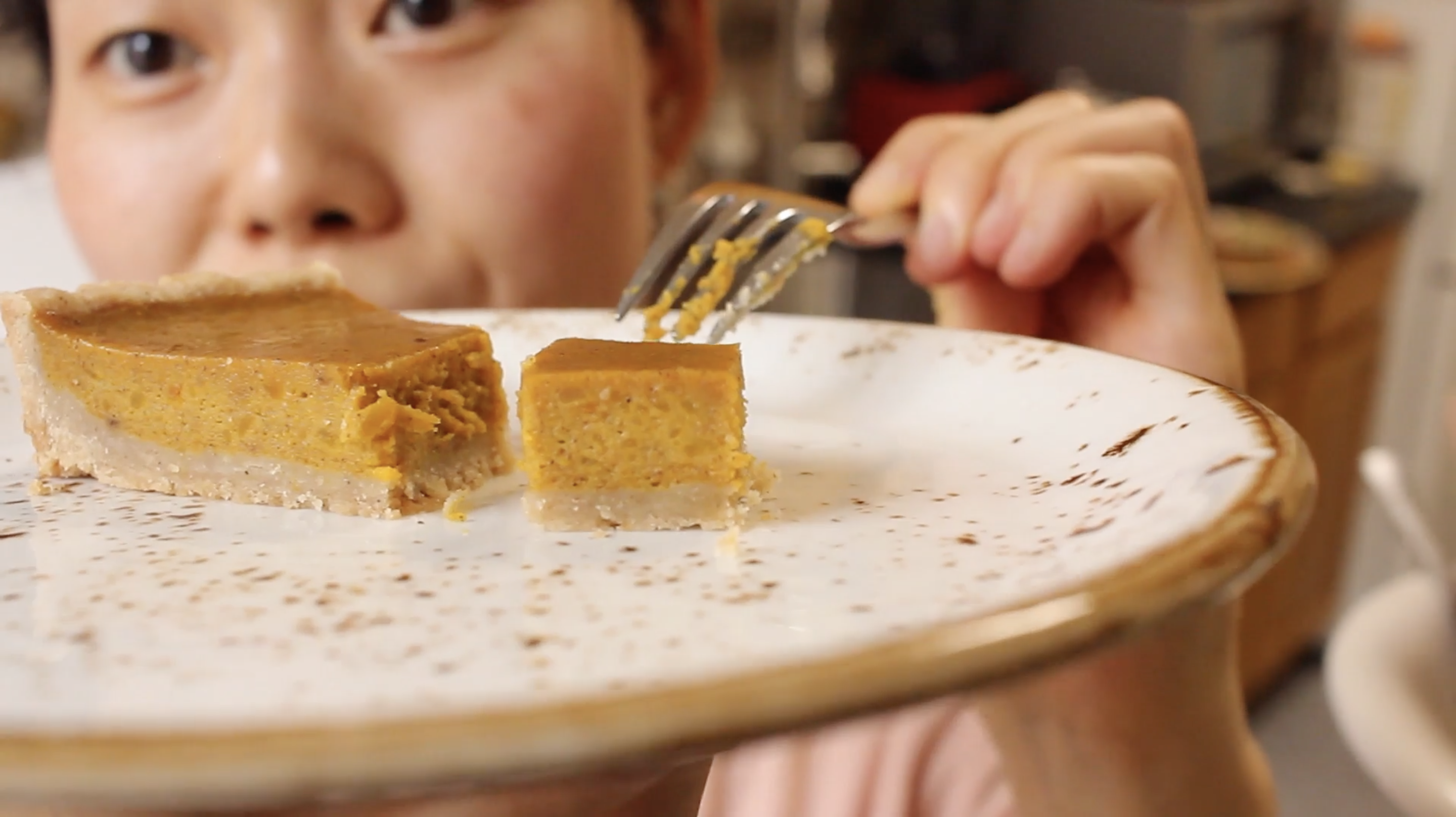 The rest was honestly a whirlwind and a blur. I made so many sides: lemony roasted Brussels sprouts, creamy twice-baked mashed potatoes, a savory butternut squash pie with a curried potato crust, and some no-bread potato stuffing with tiny roasted potato cubes that were first boiled then roasted to golden, crunchy perfection.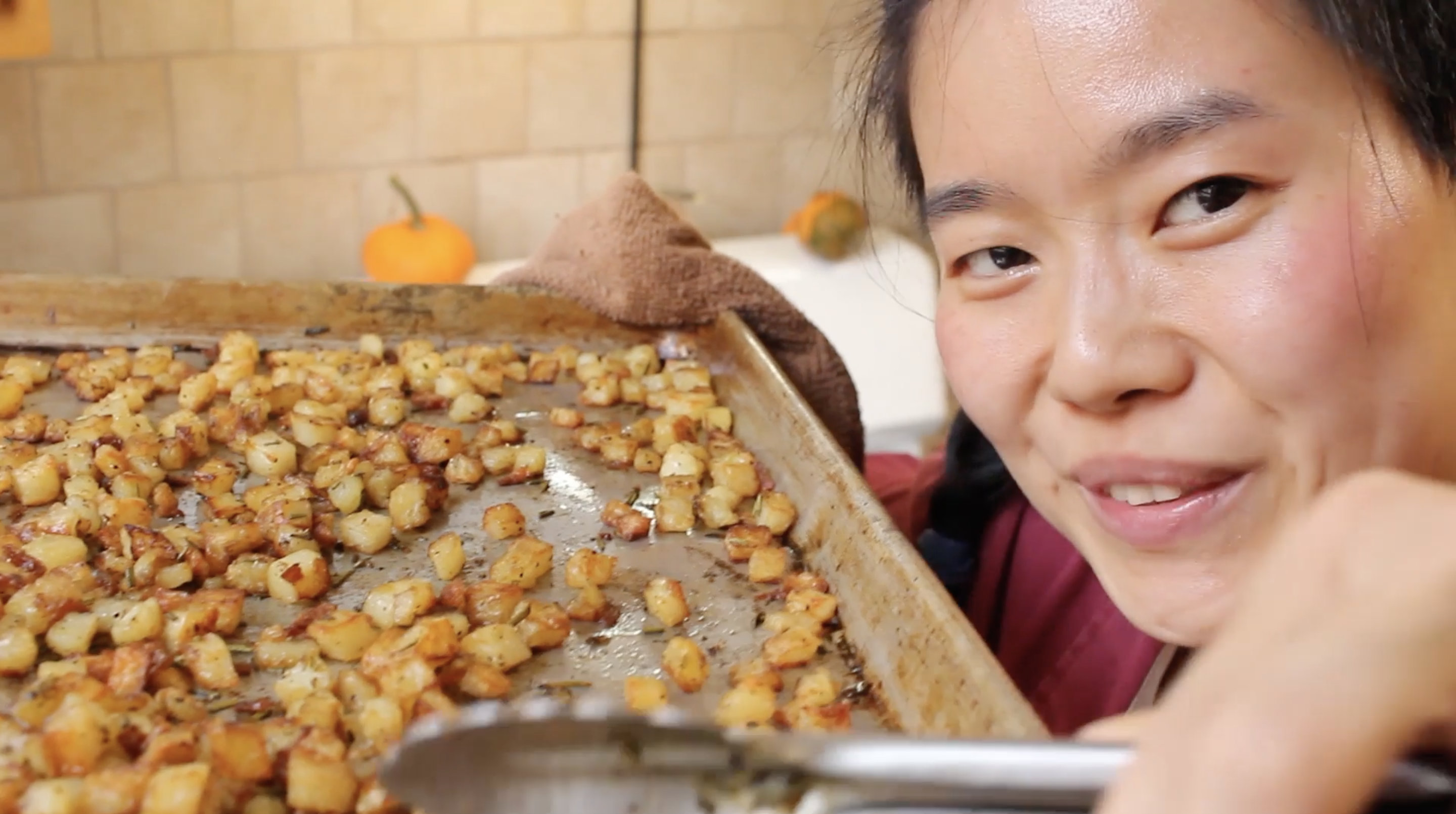 This was perhaps the most classic Thanksgiving I've ever experienced. I cut my finger, I yelled, I cried, and then I smiled and ate with relief and happiness. Having grown up in a Chinese immigrant household, I've never cooked a spread like this before, but according to Aaron, I did good: 10/10 good, in fact. Not bad for a first-timer!
The winning recipes
Kung Pao Turkey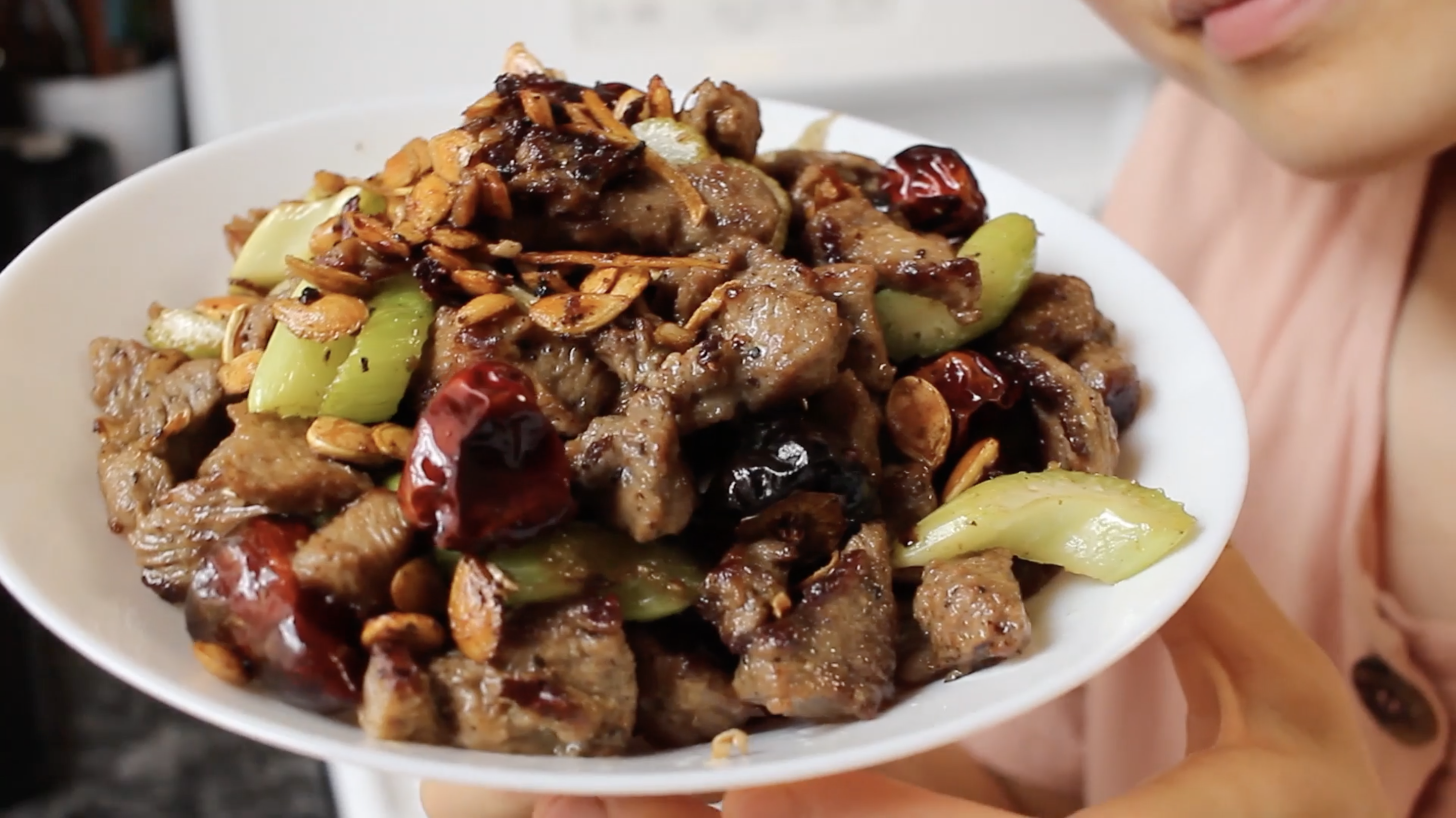 For the marinade
1 tbsp. low-sodium soy sauce
1 tbsp. rice wine vinegar
½ tsp. ground red Szechuan peppercorn
½ tsp. ground green Szechuan peppercorn
½ tsp. white pepper
½ tsp. freshly ground black pepper
½ tsp. ground coriander
1 lb. dark meat turkey, cubed into bite-sized pieces
1 tbsp. cornstarch
For the stir-fry
3 tbsp. oil, divided
8 to 12 dried chilis
1 tbsp. ground Szechuan peppercorn
6 cloves garlic, sliced
2″ ginger, thinly slivered
2 stalks celery, sliced
Roasted pumpkin seeds, for garnish
Marinate the meat: In a medium bowl, combine soy sauce and vinegar with spices. Add turkey and toss until evenly coated. Sprinkle in cornstarch and toss to coat. Cover and let rest overnight in the refrigerator.
Cook the meat: In a large skillet over medium heat, heat 2 tablespoons oil. Add in chilis, peppercorn, garlic, ginger, and celery and stir until garlic is lightly golden. Transfer mixture to a plate and set aside.
To the skillet, add half the turkey. Cook, stirring frequently, until meat develops a golden crust, about 6 minutes. Transfer to the plate with celery, then add remaining 1 tablespoon oil to the skillet. Repeat with the remaining turkey.
Return all the turkey and celery mixture to the skillet and stir until well-combined and heated through. (Reserve the delicious fond in this skillet for your mushroom gravy!)
Garnish with roasted pumpkin seeds before serving.

---

Mushroom Gravy
Skin from 1 bone-in skin-on turkey drumstick, cut into 6 pieces
8 oz. button mushrooms, sliced
2 tbsp. butter
1 tbsp. minced rosemary
Kosher salt
Freshly ground black pepper
2 tbsp. all-purpose flour
3 c. homemade turkey broth, plus more as needed
In a medium pot over medium heat, add turkey skin. Let cook until almost all fat is rendered and skins become crispy and golden brown. Remove skins and save for another use.
Add mushrooms and cook, stirring frequently, until deeply golden, 6-to-8 minutes. Add in butter and rosemary and season with salt and pepper, stirring until fragrant, 1 minute.
Add flour and stir until evenly coated and no dry clumps remain. Gradually pour in broth, cup by cup, stirring well before each addition. Cook until desired consistency is reached, adding more broth as needed.
If you reserved the fond-glazed skillet from making the kung pao turkey above, heat that skillet over medium heat and pour in your mushroom gravy. Using a wooden spoon, stir and scrape to incorporate the fond into the gravy.

---

"Mouthwatering" Turkey (口水雞 kǒu shuǐ jī)


For the boiled turkey
1 bone-in skin-on turkey drumstick
1″ ginger, sliced thinly
6 dried chili peppers
½ tsp. fennel seeds
½ tsp. cumin seeds
½ black peppercorns
2 tsp. kosher salt
1 tsp. Szechuan peppercorns
For the hot chili browned butter
2 tbsp. ground chili peppers
½ tsp. white pepper
2 tsp. ground Szechuan peppercorns
4 cloves minced garlic
½" ginger, minced
1 tsp. kosher salt
½ c. (1 stick) butter
To a large pot over medium heat, add all ingredients for the boiled turkey and cover with water. Bring water to a boil and reduce heat to lower to a simmer. Let cook, covered, until turkey reaches an internal temperature of 165°.
Remove turkey leg from pot and transfer to a large bowl of ice water. Let turkey cool completely, then drain and carve meat off the bone, reserving the bone. Slice into bite-sized pieces against the grain and set aside until ready to serve.
Return the turkey bone to the pot and let simmer with cooking liquid until a flavorful broth develops, about 1 hour. Let cool, transfer to a heat-proof container, and reserve for another use in the refrigerator.
Make the chili browned butter: Combine peppers, peppercorns, garlic, ginger, and salt in a 2-cup heat-proof jar. In a small pot over low heat, cook butter, swirling pot occasionally, until nutty and browned. Remove from heat and gradually pour over spices into the jar, going slowly to avoid overflow.
To serve: Place sliced turkey on a plate, then douse with all of the chili browned butter.


Source: Read Full Article