Total:

25 min

Active:

20 min
Ingredients
4 slices bacon
2 everything bagels, split
1 ripe medium avocado
Juice of 1/2 lemon
1/4 teaspoon crushed red pepper flakes
Kosher salt and freshly ground black pepper
2 large eggs
2 slices beefsteak tomato
1 cup arugula
1 tablespoon olive oil
Directions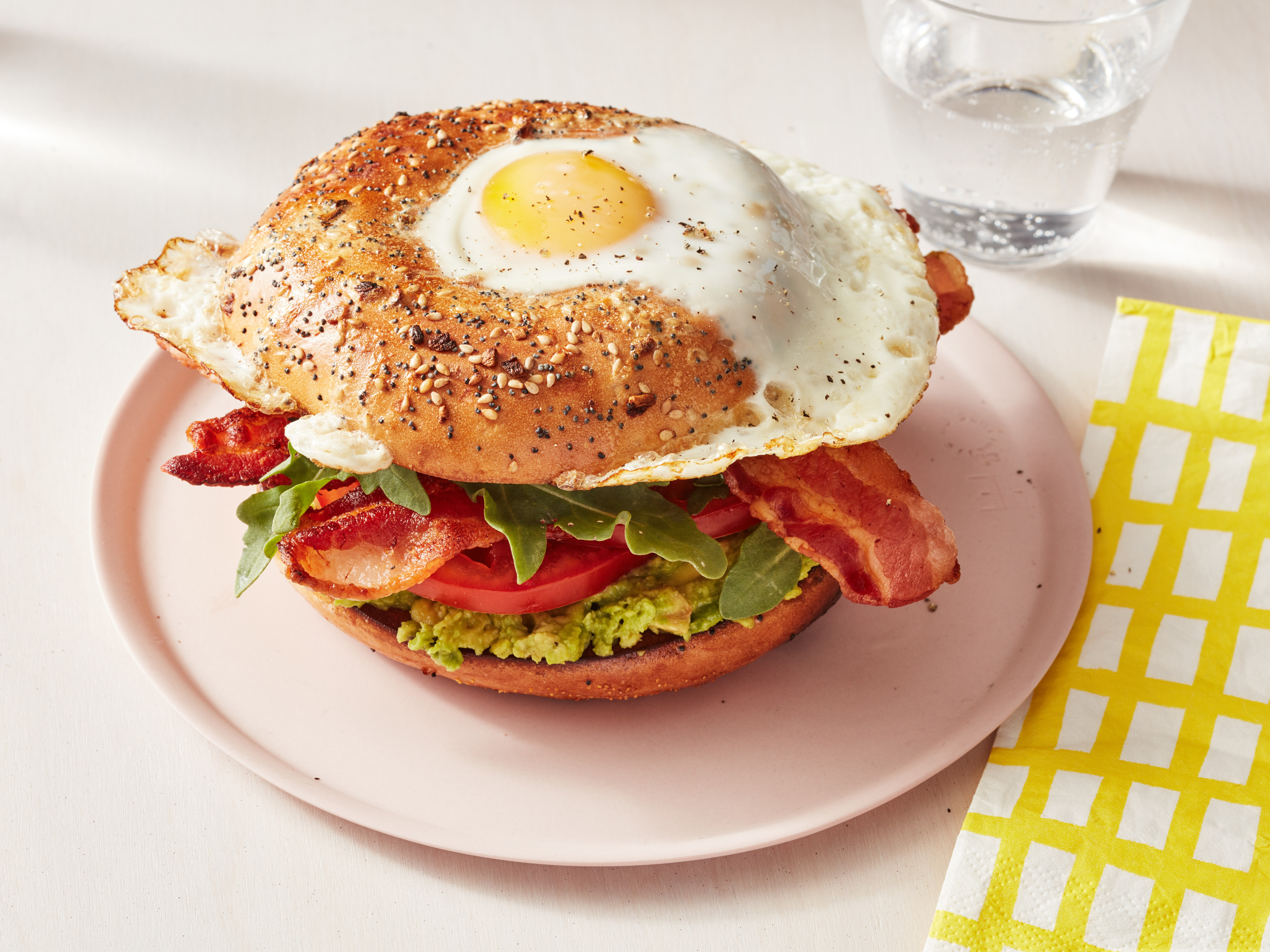 Preheat the oven to 400 degrees F. Arrange the bacon in a large ovenproof skillet and cook over medium-high heat until crispy, about 4 minutes per side. Transfer to a paper-towel-lined plate. Remove all but 2 teaspoons bacon drippings from the skillet.
Reduce the heat to medium. Add the 2 bagel bottoms to the skillet cut-side down and cook until light golden brown, 3 to 4 minutes. 
Meanwhile, mash together the avocado, lemon juice, red pepper flakes, 1/4 teaspoon salt and a few grinds of black pepper in a small bowl.
Remove the bagel bottoms from the skillet and evenly spread the avocado mash over the toasted sides; set aside. Add the 2 bagel tops to the skillet cut-side down. Crack 1 egg into each bagel hole and season with salt and black pepper. The whites will run over and under the bagels which is okay– just make sure the yolks stay in the holes.  
Cover the skillet and cook until the whites become crispy and the bottoms of the bagels are toasted, 3 to 4 minutes. Transfer the skillet to the oven and continue cooking until the whites are completely set and the yolk is still runny, about 5 minutes.  
Meanwhile, layer each bagel bottom with a slice of tomato, some arugula and 2 slices of bacon. Drizzle with the oil and sprinkle with salt and black pepper. Top with the bagel tops and cut each sandwich in half.
Source: Read Full Article