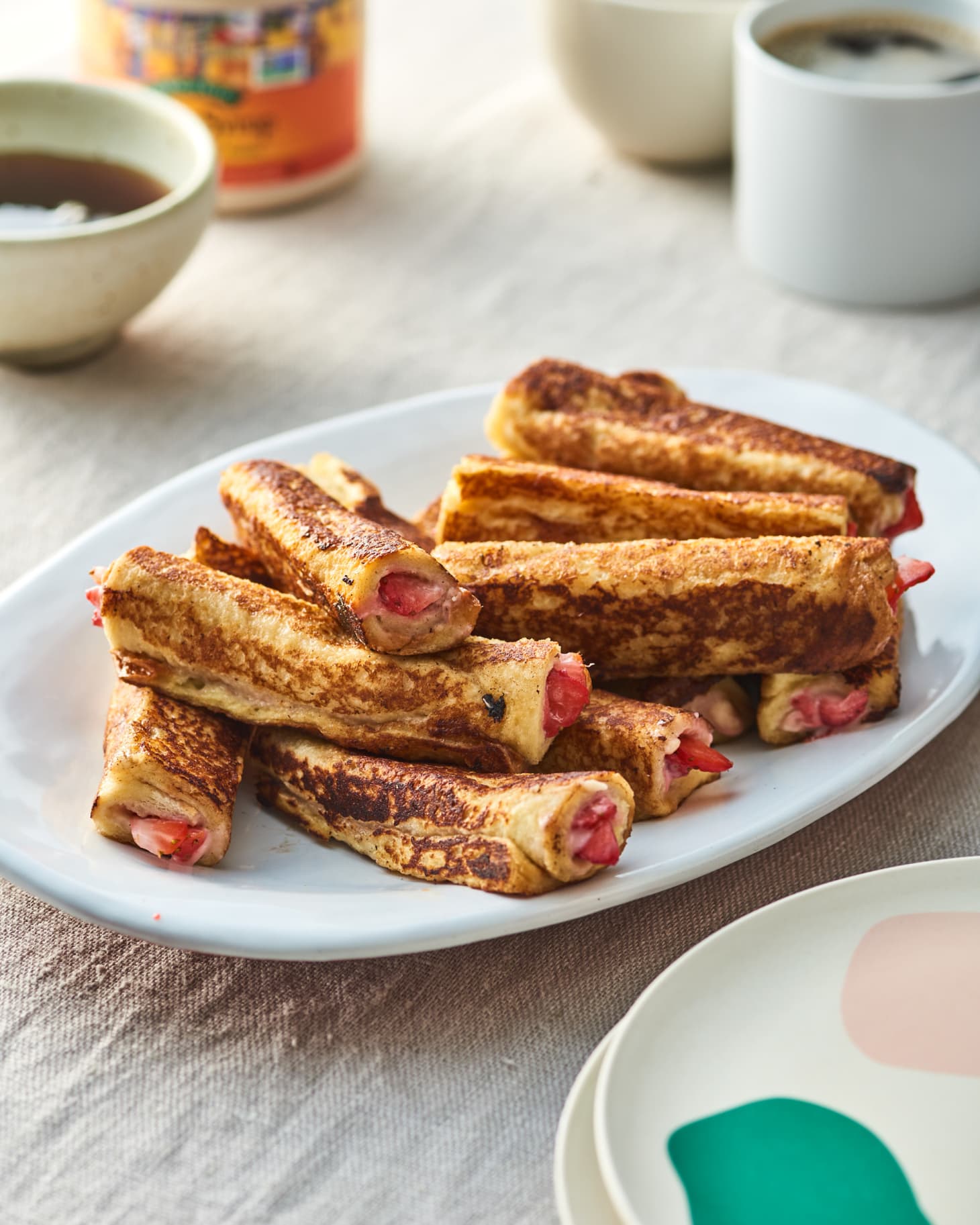 I love a sweet strawberry dessert as much as the next person: Strawberry shortcakes and mixed berry fools are popular picks at my house. But during the height of strawberry season, when the juicy, ruby-red berries are at their absolute best, I like to work them into breakfast, too.
My latest favorite are these handheld French toast roll-ups, which are a fun new way to serve French toast to kids. I spread jam-swirled cream cheese onto tender white bread, top with a layer of thinly sliced strawberries, then roll them up and soak them in a sweet vanilla custard. Then, I cook them in sizzling butter until golden-brown, and serve them to my eager kids (and husband!) with plenty of maple syrup for dipping.
Follow These Steps for the Easiest French Toast Roll-Ups
Working assembly line-style is the easiest way to make these roll-ups. Here's how to do it.
Berries & Cream French Toast Roll-Ups
Ingredients
12

slices

soft, white sandwich bread

4

ounces

cream cheese, at room temperature

1/4

cup

strawberry jam

1 1/2

cups

thinly sliced small strawberries (about 12)

1/2

cup

granulated sugar, divided

1

teaspoon

ground cinnamon

1

large egg

1

cup

half-and-half

1

teaspoon

vanilla extract

1/2

teaspoon

kosher salt

2

tablespoons

unsalted butter, divided
Instructions
Cut the crust off of the bread slices, and discard or save them for another use. Flatten the bread slices with a rolling pin.

Stir the cream cheese and jam together until combined, then spread 2 teaspoons onto each slice of bread.

Arrange a row of strawberry slices (about 5) on one end of each bread slice. Working from the end with the strawberries, roll each slice of bread into a tight log and arrange seam side down.

Stir 1/4 cup of the sugar and cinnamon together in a shallow bowl. Set aside.

Whisk the egg, half-and-half, vanilla, salt, and remaining 1/4 cup sugar together in another shallow bowl. Working with 1 roll-up at a time, dip and roll it in the custard, drain the excess custard back into the bowl, and place on a plate or rimmed baking sheet.

Melt 1 tablespoon of the butter in a large skillet over medium heat. Add 6 roll-ups seam-side down, and cook until golden-brown on all sides, 3 to 5 minutes per side. Roll in the cinnamon sugar to coat on all sides. Repeat with the remaining butter and roll-ups. Place on a serving platter and cool for 5 minutes before serving.
Recipe Notes
Make ahead: The roll-ups can be assembled 1 day in advance and refrigerated. Wait until ready to cook to dredge in custard.
Storage: Refrigerate leftovers in an airtight container for up to 3 days.
Source: Read Full Article