Yield:

4 servings

Nutrition Info

Nutritional Analysis

Per Serving

Calories

345 calorie

Total Fat

18 grams

Saturated Fat

3.5 grams

Cholesterol

85 milligrams

Sodium

230 milligrams

Carbohydrates

16 grams

Dietary Fiber

1 grams

Protein

29 grams
Ingredients
Directions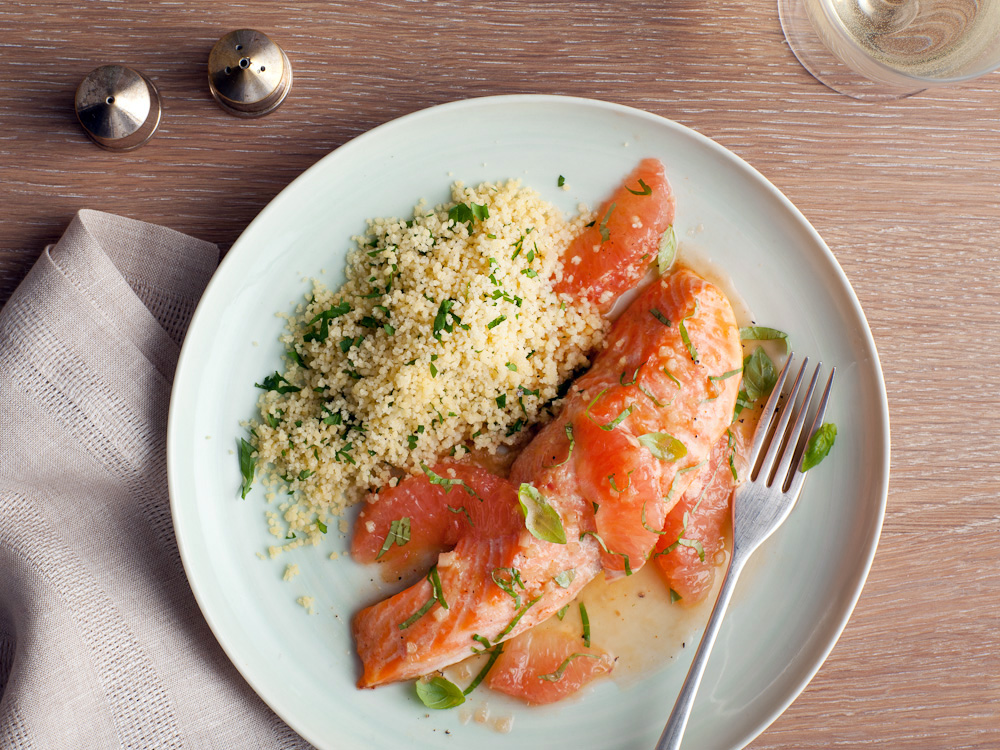 Preheat the oven to 350 degrees F.
Season the salmon with 1/4 teaspoon salt, place in a baking dish and roast until cooked through, about 18 minutes.
While the salmon is cooking prepare the sauce. Cut 1 of the grapefruits into sections by cutting off the top and bottom of the fruit, then standing it on 1 end, cut down the skin to remove the pith and peel. Then, with a paring knife, remove each segment of fruit from its casing and cut the segments in half. Set the segment pieces aside. Juice the other grapefruit and set the juice aside.
In a medium skillet, heat the oil over a medium heat. Add the shallot and saute until softened, about 2 minutes. Add the ginger, grapefruit juice, honey, and cayenne pepper and bring to simmer. Cook until sauce is reduced by about half about, 10 minutes. Add lemon juice and season with salt, to taste. Right before serving, toss the grapefruit pieces and basil into the sauce. Put the salmon onto a serving dish. Spoon sauce over the salmon and serve.
Source: Read Full Article