Ahead of the release of Disney's newest movie—Raya and the Last Dragon—star Kelly Marie Tran joins author Loan Le over a bowl of phở to talk all things food, family, and the importance of seeing both reflected in film. Raya premieres today, March 5, on Disney+ with Premier Access and in theaters.

In another time, Raya and the Last Dragon actress Kelly Marie Tran and I might have chatted in some bustling restaurant, struggling to hear each other over the din of utensils and interruptions by other patrons slipping behind us to get to their own seats.
But because of COVID-19, Disney's first Southeast Asian princess and I settled with sharing a Zoom meal from Los Angeles and Cheshire, CT, respectively.
Kelly Marie and I already have three things in common from the get-go. 'Loan' is our Vietnamese given name. We both love food (food is a key component in my young adult rom-com novel, A Phở Love Story). And we ordered the same meal: phở, a traditional Vietnamese noodle soup simmered in a flavorful broth with notes of cinnamon, cardamom, and star anise. Kelly Marie shows off her bowl of phở gà, with chicken being its shining star. Mine's phở đặc biệt, and I like to think of it as phở with "the works": chewy tripe, tender beef and meatball accompanied with the perfunctory bean sprouts, onions, and herbs like Thai basil, culantro, and cilantro.
Kelly Marie voices a spunky, independent warrior named Raya in Raya and the Last Dragon (which was fully "made and then conceived and finished [from home]," Tran confirms). The movie is set in Kumandra, a fantastical world once under siege by an evil force, then rescued by a dragon, when dragons lived alongside humans. But a betrayal revives this devastating threat 500 years later, and Raya must find a way to restore peace to Kumandra.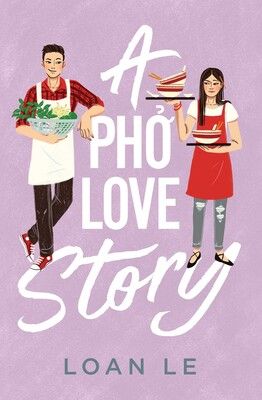 A Pho Love Story
Besides the film's incredible voice-acting, heart-pumping fight scenes, and magnificent Southeast Asian-inspired landscapes, food is also an unexpected star. Every instance of something edible provides Easter eggs for people who love food like I do. In one scene, you'll see baskets of dragon fruits, named for its tough skin and scale-like features, and sugary mangosteens the color of a bruise. Captain Buon, one of Raya's new friends, touts his shrimp congee. In another scene, half-peeled longan with its sweet plump white meat exposed entices Raya's armadillo and pillbug-like comrade, Tuk Tuk.
Kelly Marie saw parts of her Southeast Asian heritage in this film several times, but, she tells me, "it's insane to me that it's a rare thing to recognize foods that you grew up with in a movie."
"It's been such a beautiful experience because I've never worked on anything like this before," she says: "I…looked at the script and totally freaked out because I saw moments that I had never seen in a movie like this before. It's been emotional to be a part of this. You just feel the significance of it."
Food, especially, "plays a symbolic role in this movie," Kelly Marie continues. "Raya starts out not trusting anyone and thinking if she gets food from anyone it's poisoned. The world is such a dangerous place. She makes her own jerky and that's the only thing she wants to eat." (That's jackfruit jerky, and its taste is questionable, given many characters' reactions.) But a shift in Raya's distrust toward food—and in others—is essential to the character's journey.
Meals also signal community and unity, both of which are noticeably absent at the beginning of the film. Raya's optimistic father, Chief Benja, demonstrates one way Kumandra comes together: by dropping ingredients from each land into a bubbling soup, perhaps inspired by Thailand's tom yum soup: pungent shrimp paste, from Tail; aromatic lemongrass from Talon; bamboo shoots from Spine; chilis from Fang; and palm sugar from Heart.
These ingredients are "all from different places," Kelly Marie notes. "And it might not feel like it's going to go together, but it does so harmoniously."
Throughout the film's creative process, it was important to highlight Southeast Asian food and culture authentically. The Star Wars actress believes this part of the world is absent or misrepresented in the media.
And the worst part is "not even realizing [its absence]." She continues: "It's so pervasive in culture and so subconscious; you grow up in a world where you're not seeing yourself or seeing people of other cultures represented across media—and you're used to it.
"We're now in a world where we're questioning that…But when I was a kid, these were not questions at the top of people's heads. We didn't have these shared words to bring up these feelings."
'It's insane to me that it's a rare thing to recognize foods that you grew up with in a movie.'
It was crucial for Disney to hear writers' personal experiences, conduct meticulous research, and consult a story trust—sources with whom filmmakers worked to ensure the story's authenticity. At one point, Kelly Marie remembers there was "a conversation where the filmmakers, the writers, the producers, directors did a shared meal on Zoom and were sent the same foods," some inspiring the food seen in the film.
All of this presumably leads to Kelly Marie telling me that if she could share a meal with anyone in a hopefully safer near-future, it'd be everyone involved in the film—all 400+ of them. Meanwhile, my phở sits cold; I have been so totally immersed in my chat with this remarkable person.
"It's weird to go through this whole process in isolation," she says. "Usually there would be this communal thing to celebrate right now…but because of us being isolated we can't really do that." This meal would be a way to "thank everybody for letting me be a part of it. Because this is a huge deal. And it's special."
Loan Le holds an MFA degree in fiction from Fairfield University, also her undergraduate alma mater. A Pho Love Story is her first novel. Visit her website at WriterLoanLe.me.
Source: Read Full Article