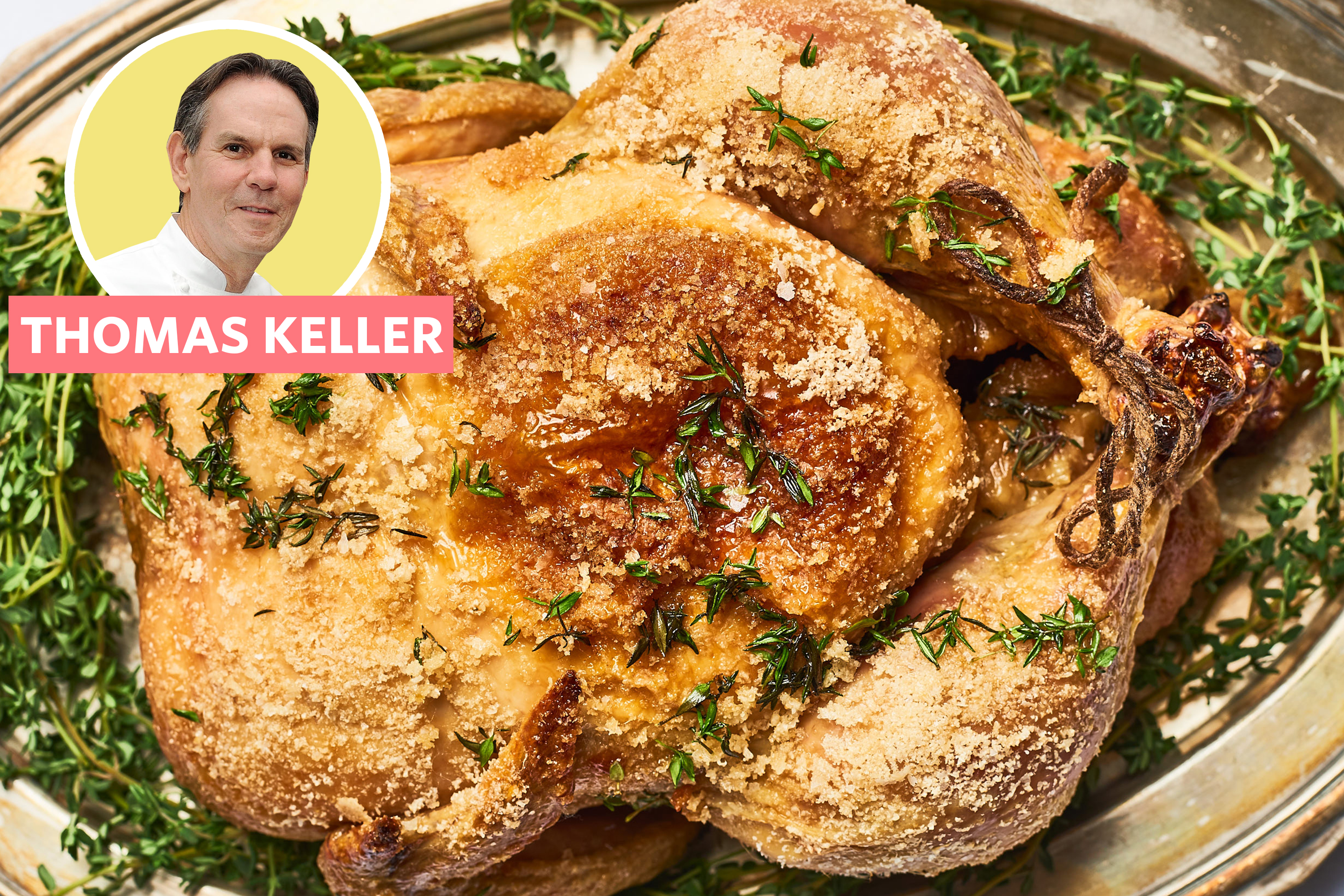 Chicken Champions: All month long, Kitchn is battling off the four classic chicken recipes everyone needs this time of year: pot pie, soup, roast chicken, and showstopper chicken. (It's our version of March Madness: Chicken Edition!) Here's Thomas Keller's take on our battle: roast chicken.
Chef Thomas Keller has a knack for creating absolutely delicious and memorable restaurant-style recipes that are not just accessible, but also totally doable for the home cook. In fact, taking a classic like roast chicken and making it shine (all while keeping a simple yet thoughtful minimalist approach) is where he really excels.
With three basic ingredients, it doesn't get much easier than his approach to roasting a chicken. It's a modern-day classic, and rightfully so. And with over 700 shining reviews, I had to find out if it really delivered.
Get the recipe: Thomas Keller's Simple Roast Chicken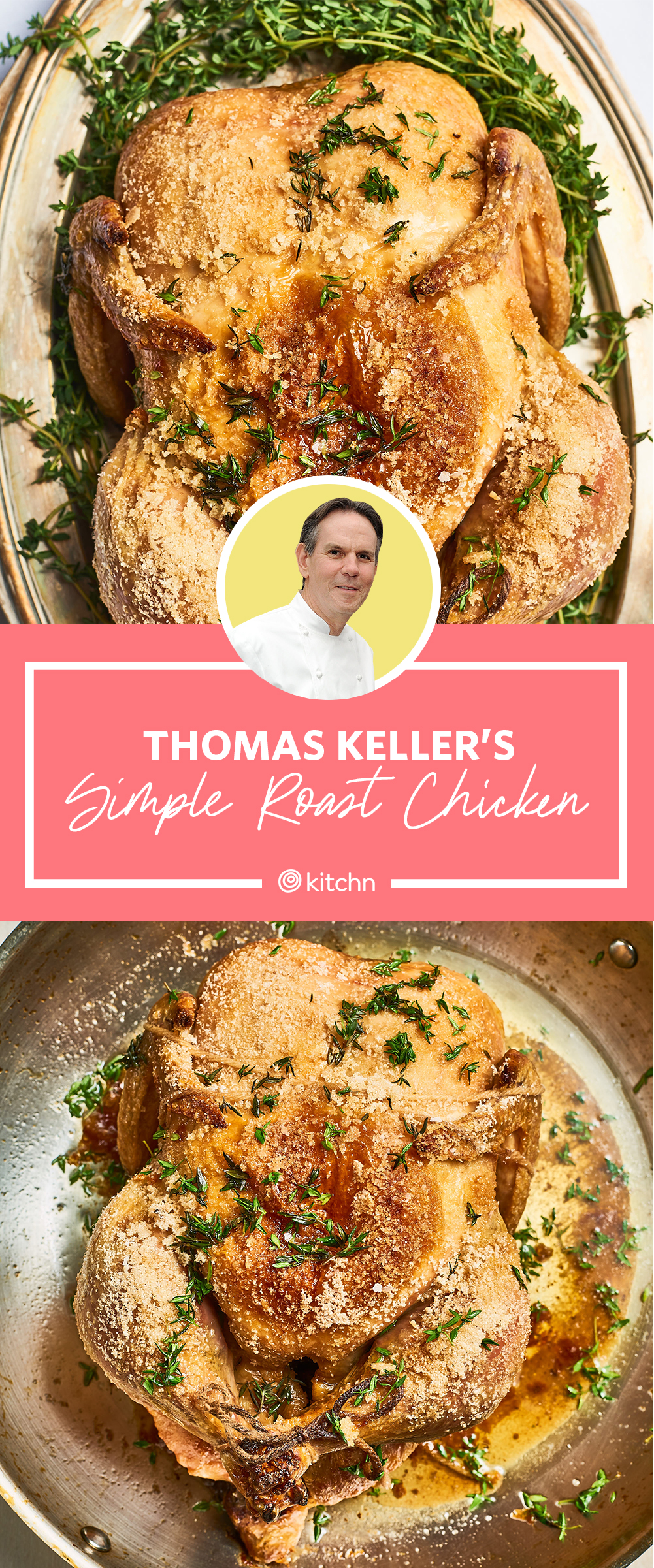 How to Make Thomas Keller's Roast Chicken
The upfront prep is minimal. Keller's recipe starts by rinsing the chicken, then thoroughly drying it inside and out. After the cavity is seasoned, the bird is trussed, salted, and roasted in a sauté pan or roasting pan for 50 to 60 minutes. Once out of the oven the recipe suggests the option of adding thyme leaves to the drippings, which then get basted over the bird, before it's rested, cut, and served.
What I Thought of the Results
True to its name, it doesn't get much more simple than this roast chicken, and for that it gets a lot of points in my book. The recipe takes a minimalist approach — no chopped vegetables, no smashed garlic, herbs, or butter to push under the skin — that I really appreciate. And it delivers a well-browned, perfectly seasoned, juicy roast chicken.
While it's a trade-off that sacrifices the crispy skin, most of all I loved Keller's suggestion of adding fresh thyme leaves to the chicken drippings, then basting them both over the bird. It infuses a hint of herbs, without an herbaceous flavor permeating all of the meat, and packs the skin with an even richer, deeper, fattier flavor. At the end of the recipe, Keller includes a serving suggestion to slather the chicken with butter, as well as Dijon mustard on the side, and I can confirm that it is advice worth taking.
However, despite its simplicity, Keller's recipe lacks a few helpful specifics that are likely to leave beginning cooks or anyone without much experience roasting chicken, with some questions. (More on this below.)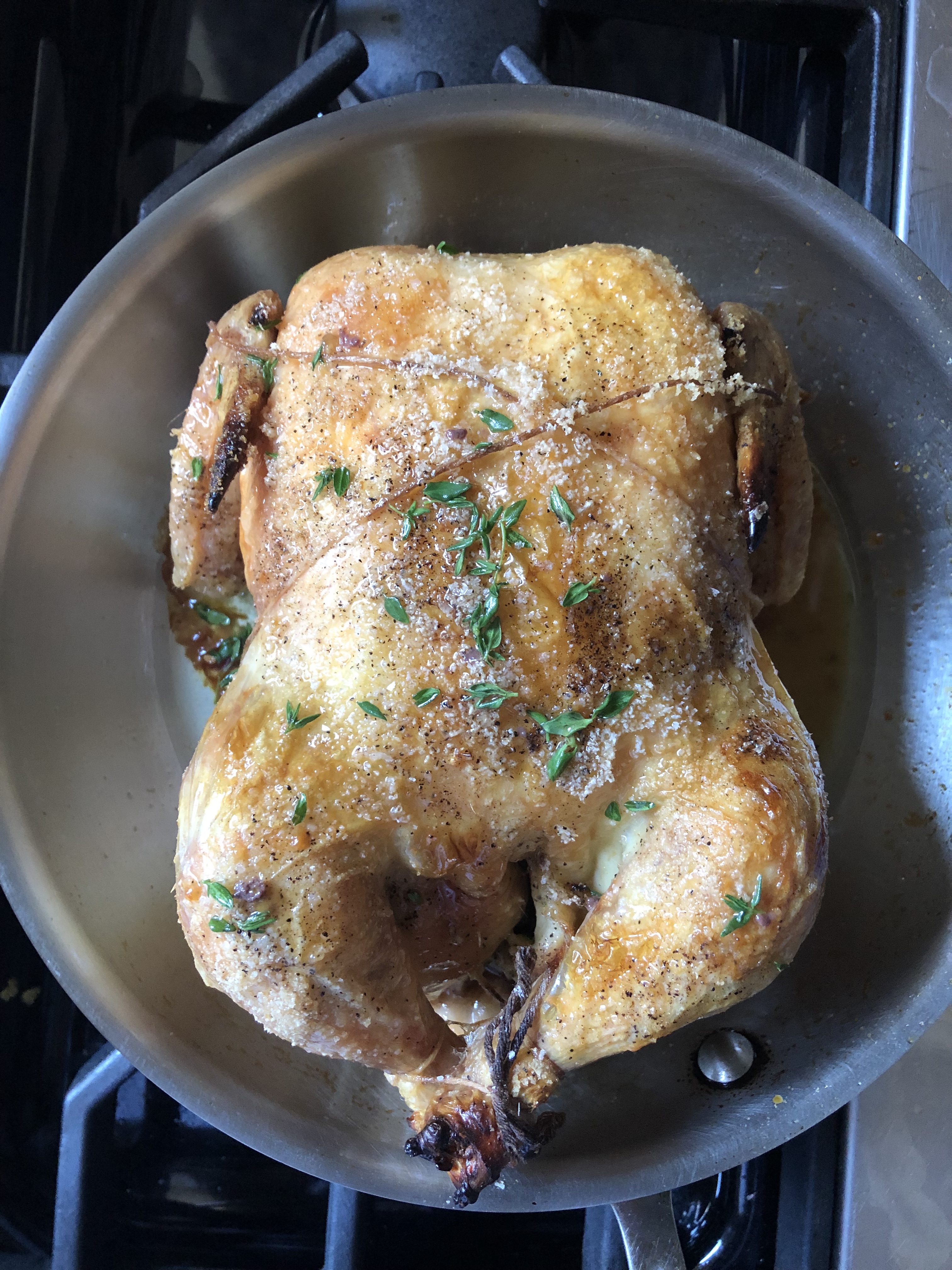 If You Make Thomas Keller's Roast Chicken …
1. Skip rinsing the chicken, as he suggests. While this is a practice encouraged by many chefs and cookbook authors, it can actually do more harm than good by potentially spreading bacteria to your sink, countertops, and other surfaces. Skip the washing, but do make sure to thoroughly dry the chicken.
2. You can get away with just tying the legs together. The recipe calls for trussing the bird, which helps it cook evenly and prevents it from drying out. Instead of trussing the whole bird, which is fussy for such a simple recipe, you can get away with tying the legs together with kitchen string so they cover the opening of the cavity.
3. Place the bird in the pan breast-side up. Keller's recipe doesn't offer specifics on how to place the chicken in the pan, but it should be breast-side up.
4. You'll have to choose between crispy skin and herb-basting. While the chicken comes out of the oven with crispy skin, Keller's recommendation to baste the bird with drippings and herbs does soften the skin. So you've got a choice to make: crispy, well-seasoned skin or softer, more flavorful herb-infused skin. You can't go wrong either way, although I lean towards the latter.
5. Never overlook the chicken butt. If there's just one takeaway from Thomas Keller's roast chicken recipe that I will forever carry with me, it's to never overlook the chicken butt. I'll admit that I was skeptical when first reading his advice (he describes it as the "cook's reward") in the recipe, but this crispy, fatty skin around the back of the chicken just might be the very best part of the bird. I recommend going for it as soon as the chicken comes out of the oven and is cool enough that you won't burn your fingers.
6. Check for doneness using an instant-read thermometer. Timing cues are always helpful, but the best way to truly know when your roast chicken is cooked through is by checking the temperature with an instant-read thermometer. When the chicken is ready, it should register 165°F in the thickest part of the thigh before coming out of the oven.
Overall Rating: 9 out of 10
There's no question that this recipe really delivers with a simple and truly delicious roast chicken, although the instructions lack some details and specifics essential to newer home cooks.
Get the recipe: Thomas Keller's Simple Roast Chicken
Read More
Who Wins the Title of Best Roast Chicken Ever?
I Made Marcella Hazan's Famous Roast Chicken

I Tried Zuni Café Roast Chicken
I Made Ina Garten's Famous Roast Chicken
Source: Read Full Article