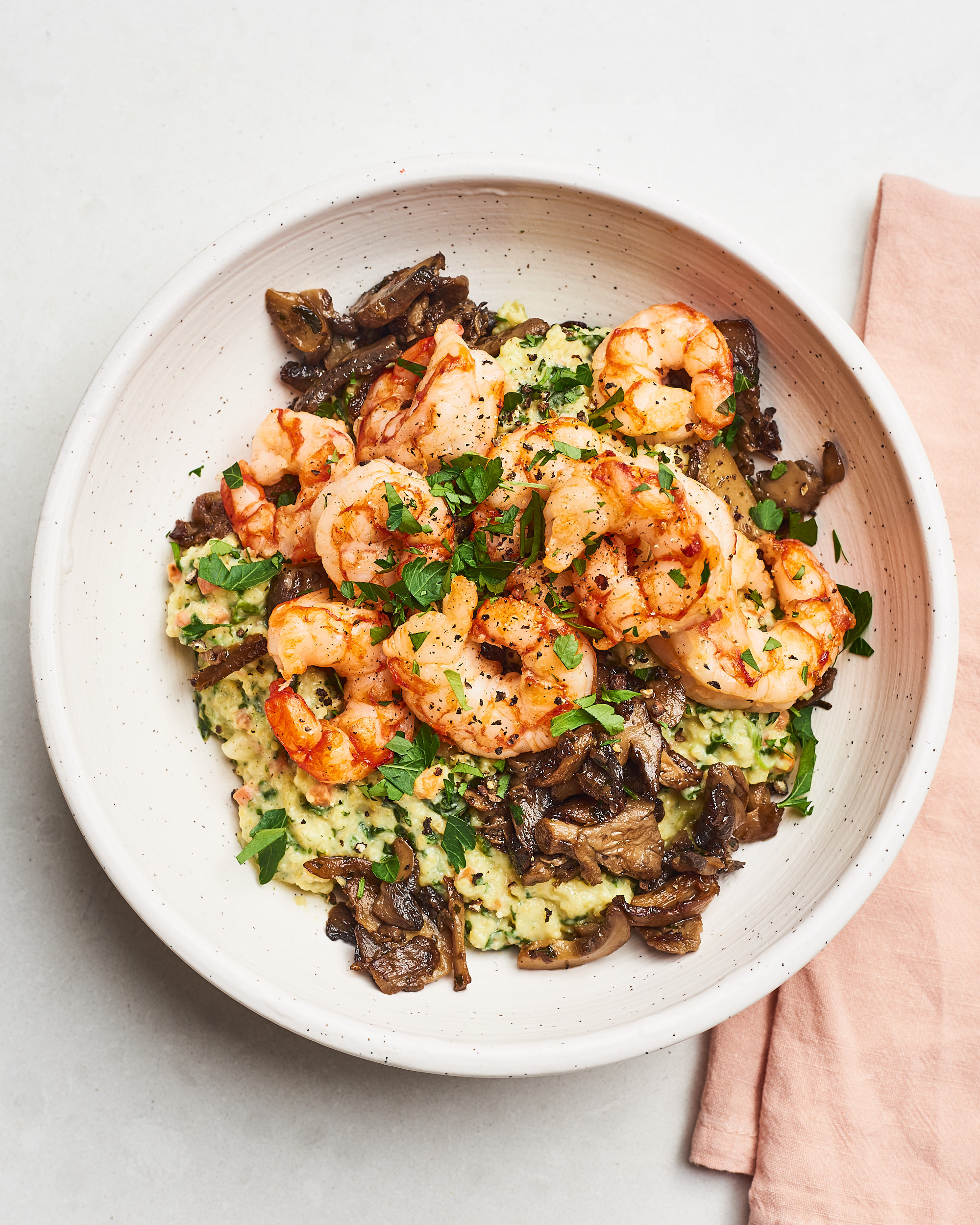 Creamy polenta is near the top of my list of favorite comfort foods, because it's rich, creamy, and the perfect base for pretty much anything saucy. I rarely make it, though, because it takes a solid 40 minutes to cook — and that's more than I can spare on busy weeknights.
Recently, though, I spotted a shortcut at Trader Joe's: Their frozen creamy polenta cooks in minutes, and has extra veggie power with both carrots and spinach mixed in. Here I use it as a bed for a shrimp bowl, and I have to say that an Italian-inspired meal never looked so good.
Stock Up on TJ's Favorites for Easy Last-Minute Meals
This easy dinner makes use of some of the best items to stock up on at Trader Joe's. Frozen shrimp is always a smart thing to have on hand, because it's versatile and cooks up fast. Here, you don't even need to bother defrosting it. Simply roast it on a hot sheet pan with some frozen mushrooms, and in about 10 minutes dinner is done. Defrost and heat the polenta while the shrimp and veggies cook, so you can immediately pile the mix on top and dig right in.
Trader Joe's Creamy Polenta Shrimp Bowl
Ingredients
1

(16-ounce) bag

Trader Joe's frozen Wild Uncooked Argentinian Red Shrimp

1

(12-ounce) bag

Trader Joe's frozen Mushroom Medley

2

tablespoons

olive oil

Kosher salt

Freshly ground black pepper

1

(16-ounce) bag

Trader Joe's frozen Creamy Polenta with Spinach & Carrots
Instructions
Place a rimmed baking sheet on a rack in the middle of the oven and heat to 425°F.

Empty the still-frozen shrimp and mushrooms into a large bowl. Drizzle with olive oil, season with salt and pepper, and toss to combine. Carefully transfer to the hot baking sheet and spread out into an even layer. Roast, tossing halfway through, until the shrimp are just cooked and everything is warmed through, about 10 minutes total.

Meanwhile, defrost and warm the Creamy Polenta with Spinach & Carrots according to package instructions. Serve the shrimp and mushrooms over the polenta.
Recipe Notes
Storage: Leftovers can be refrigerated in an airtight container for up to 3 days.
Source: Read Full Article